Luxury Wedding Car Hire in Bollington
Luxury Wedding Car Hire in Bollington
At Horgan's Wedding Car Hire we fully understand when it comes to your big day we are fully aware that it is one of the most important days of a new bride and grooms life, which is why we will assist you through the process of selecting the right vehicle for your big day when you book your Wedding Car Hire in Bollington with us.
We will ensure you choose the perfect wedding vehicle and we will match any of your requirements or specifications through our extensive fleet of wedding cars. We will also ensure that each fine detail is taken care of.
When you book Horgans Wedding Car Hire for your Bollington Wedding be sure to get in touch with our team today. We will go above and beyond to ensure your day is memorable and special meaning you can always rely on us for the finer touches.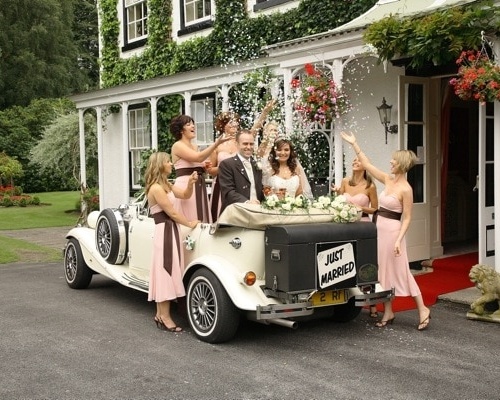 Luxury Wedding Cars
At Horgan's we can provide you with the award winning Beauford, to the Royale Regent and Imperial Wedding Cars or our popular Charabanc eight-seater omnibus, which has been specially created for the wedding industry.
Our Wedding cars are equipped with some of the finest cars which we have available for wedding hire in Cheshire and Greater Manchester including modern, classic and vintage cars for hire. The vehicles we have are complete works of art and have been used in television shows and in various promotions, when it comes to wedding hire in Bollington, we will make sure you travel in style on your big day.
Make it a Day to Remember
Wedding cars of distinction, beautifully coordinated with ribbons & bows to match your theme, our stunning cars and professionals' chauffeurs offer the highest standard of service ensuring your wedding day is your dream day!
Each individual wedding is unique and requires those special touches, we work with you, your photographer, other suppliers and your chosen venue to plan the entire schedule.
Benefits of Hiring a Chauffeur for your Wedding
As a newlywed couple it's a must that you arrive in style to your venue and why not do this in a stylish and extravagant chauffeur driven car.
Why Choose Horgans Wedding Cars?
Should you require a first-class wedding car hire service in and around the Bollington area then be sure to contact the team at Horgan's Wedding Car Hire today. We are proud to have a team of highly trained chauffeurs who provide a safe, reliable and overall efficient service. Our standards are proven and recognised through customer testimonials and referrals where some of our work comes from.
As a chauffeur company operating around Bollington and the surrounding areas, we set high standards for wedding car hire. We believe some of the reasons you should choose us for chauffeur hire are:
Our chauffeurs go the extra mile to make your day special
We have years of experience providing chauffeur driven wedding car hire
A range of luxury wedding cars to choose from
All of our cars are cleaned thoroughly before use
We cover the whole of Bollington for wedding car hire
For Wedding Car Hire in Bollington, Contact Horgan's Wedding Car Hire
Not only do we provide a range if wedding cars in Bollington, we also offer personal chauffeur driven services. After we've picked you up from your chosen location, we'll safely transport you to your wedding destination, ensuring that you look spectacular as you arrive.
The range of wedding cars that we offer includes a variety so you can find the perfect match for the theme of your wedding day. Within our range, you're bound to find the perfect wedding car for hire.
Simply call our team today, whether you'd like to discuss wedding car hire prices or the wedding transport available, our friendly staff is more than happy to answer any questions you may have.